So You Want to Plaster Your Hoodsly Range Hood?
Posted:
November 20, 2023
Plastering your new Hoodsly wooden range hood can be a great way to add a unique and custom touch to your kitchen. However, it's important to follow a few key steps to ensure a successful project.
Before beginning, we recommend testing the plaster on a separate piece of wood. We strongly discourage testing on your range hood as it will increase the weight of the range hood. You'll want to make sure that your test wood has a smooth surface, however, the species does not matter as you will not be able to see the wood grain once the plaster is applied. This will give you a chance to see how the plaster looks, and also to practice your technique. This is especially important if you're new to plastering.
Next, before applying the plaster, you'll need to prime your range hood. This will help the plaster adhere properly and will create a smooth, even surface to work on. Typically, the primers are water-based.
An important thing to remember is that plastering your range hood will make it heavier, so additional support will be required. Due to the additional weight, you will want to plaster your range hood AFTER it has been installed on the wall. This will make installation easier and prevent cracking in the plaster.
Commonly Asked Plaster Questions
Trim or No Trim:
We have seen clients plaster our hoods with trim and without, it is all a personal preference. Plastering is easier with a trimless range hood, however, it can be done on either.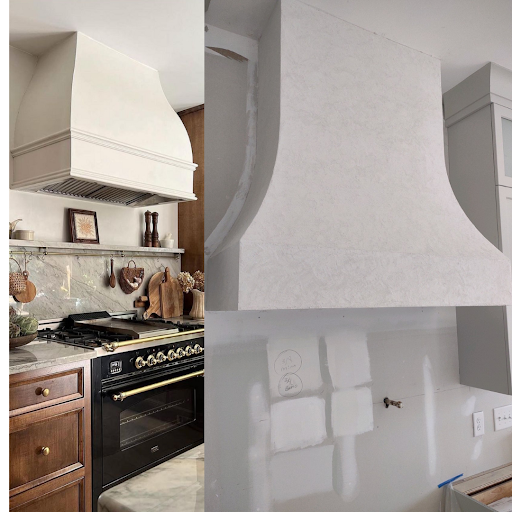 Do you all recommend any specific primer or plaster?
No, we do not have any specific recommendations. Our clients who have plastered their range hoods have used the products listed below:

Primer:
Plaster:
Do you all ship pre-plastered range hoods?
Due to the increased weight and fragile nature of the plaster once dried, we do not ship pre-plastered range hoods.
Overall, plastering your Hoodsly wooden range hood can be an aesthetically rewarding and fun project. With a little preparation and attention to detail, you can create a truly unique and beautiful feature in your kitchen.
If you would like to hear more about plastering your Hoodsly range hood, check out BrePurposed's blog, Our Roman Clay Kitchen Hood. Bre walks through each step of the process and provides tips and tricks to help make your plastering experience a successful one. You can visit @jessicasmithhomedesign and check out her story highlight titled 'Range Hood' for another take on plastering.